The Austin Goldstars are an LGBTQ+ friendly non-profit organization that provides our community and allies an opportunity to play competitive soccer in a positive and friendly environment. No one shall be discriminated against based on age, race, sex, color, religion, national origin, gender identity, or sexual orientation.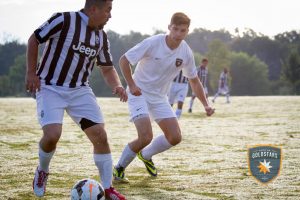 The Goldstars formed in the summer of 2005 and has participated continuously in Austin Men's Soccer Association (AMSA) league play since 2007. The Goldstars have consistently performed at a high level, often winning our division championship (2012, 2016, 2017, 2018, 2021).
Goldstars' players have also participated in International Gay and Lesbian Football Association (IGLFA) summer competitions over the past few years; once as partners with Toronto (Washington, DC in 2009) and twice with the Twin Cities Jacks (Cologne, Germany in 2010 and Vancouver, British Columbia in 2011) and the 2018 Paris Gay Games. Locally, we have competed in the Meanwhile Brewing Champions Cup and annually in the Austin Classico 7v7 Tournament.
Currently, the Goldstars have two competitive teams that compete in the following leagues:
Goldstars Board
Goldstars Board Members are elected annually. These positions are open to all; contact the President if you're interested. Please feel free to contact them if you have any questions or concerns.
2020 – 2021 Club Leadership:
President: Chris Laguna
Communications: Kierre Nicholson
Events: Eddie Franco
Recruiting: Owen Allsopp
Social Media: Please follow us on Instagram and join our Facebook group for updates on team events, social happenings, and other club news.
If you have any questions, please reach out!